Good news: I have a new computer. Bad news: it does not (yet) have an internet connection, so I'm chained to my ailing iMac for the time being.

Under the heading of Indifferent News, I can now reveal that the 13 exists, and that it is indeed spooky. As
magicalsausage can verify, I carried out a personal investigation of this bus on Monday. At around five o'clock in the evening, I stood in Charlotte Square and waited.

At 17:02, there was a brief lull in the rush and roar of arterial traffic. It was quiet enough to hear the air sigh through the trees. There were no buses in the square. Was this the expectant hush of some invisible audience?

(ssh!) A 13 peered tentatively round the corner. A fairly new single-decker; a fine evening- certainly not the typical setting for a ride on LRT's most haunted bus. That said, a rather portly man with thick glasses was standing at the front guarding the doors, grinning (rather incongruously) like a skeleton.

The bus glided through traffic-eluding cobbled streets. It passed the Tesco near Bellevue: the erstwhile William Low, the supermarket that even Google can barely remember. Here, the yellowing sun shone upon Topsy-and-Tim-esque banality: all brightly-painted tarmac and shiny cars.

Its route ended in Findlay Gardens, a street too narrow and residential for a bus route. We drove right into the middle of its privet summer. When the engine was turned off, all I could hear was the drone of aeroplanes in the blue sky and of lawnmowers on the warm grass. The houses at Lochend seemed to be made from children's coloured building blocks (the smooth and easily-toppled wooden ones).

That was the essence of its toylike spookiness: apparently, the route of the 13 has not changed since the seventies. It has never grown up.

At the other end of the route (Blackhall), I asked the driver if I could take a photograph of the front of the bus. He showed no signs of thinking me to be a crazy woman. Perhaps he thought I was a quirky American tourist.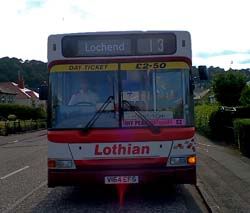 Also under Indifferent News, I have been fiddling with Photoshop to see what I'd look like with brown eyes. Wrong, it seems. Now, I shall hand over to Slightly Irritating But Not Exactly Terrible News. Livejournal isn't loading properly. >: I blame my own computer.



You speak eloquently and have seemingly read every
book ever published. You are a fountain of
endless (sometimes useless) knowledge, and
never fail to impress at a party.
What people love: You can answer almost any
question people ask, and have thus been
nicknamed Jeeves.
What people hate: You constantly correct their
grammar and insult their paperbacks.


What Kind of Elitist Are You?
brought to you by Quizilla

So not true. :p I'm not as eloquent a speaker as I would like, and people are never impressed by my useless knowledge, perhaps because I make a point of learning unimpressive things. :/

I'm quite bored, you know.